EILER publishes two magazines (Datos and Talagawa) and a newsletter (Labor Bulletin) regularly to update its network on labor issues, as well as define its position regarding these issues.
Datos – is a biannual Filipino magazine that provides research data and analysis on current labor issues. It serves as the main grassroots publication of EILER.

Talagawa – is a yearly monograph released by the institution for more in-depth analysis of strategic issues in the labor sector and society at large. Based on these analyses, it advances policy recommendations to all stakeholders to uphold the interest of workers.

Labor Bulletin – is the quarterly English e-newsletter that provides EILER's local and international partners with highlights of the trade union situation and latest labor news in the Philippines (formerly called Labor Dispatch). To subscribe, please click here.
EILER also holds Trade Union Talk or T.U. Tok, a semestral forum for the workers. Since its inception in 2000, EILER has gathered trade unionists, academicians, labor rights defenders, and church-people to expound on relevant issues which directly affect the lives of the working class.
T.U Tok can also be read as "tutok" in Filipino language, which means "focus" in English. This is precisely because T.U. Tok focuses on the burning social issues of the day and provides a venue for in-depth discussion from a worker's standpoint. Themes of the forum include issues on low wages, labor flexibilization, trade union repression, fiscal crisis, neoliberal globalization and international situation.
With each assembly, EILER reiterates its conviction to continue with its effort in empowering workers through labor education and research.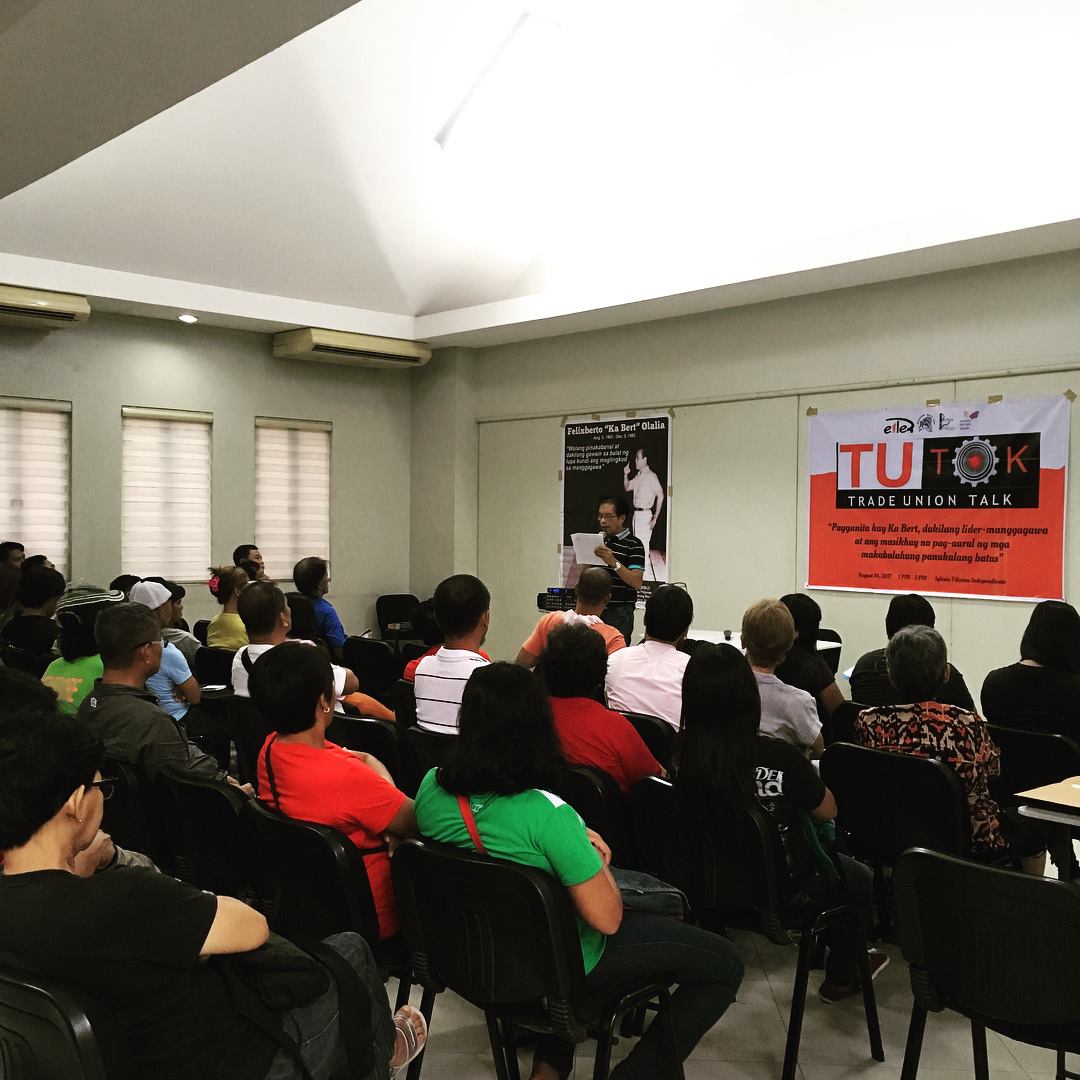 The T.U. Tok format has been modified in recent years to accommodate on-demand and on-site sponsorship by workers' organizations, apart from the centralized semestral forums. A more particular handling of the local issue results from this targeted format, providing ground-level organizers and members of workers' organizations with necessary information to collectively act on issues.