On November 18, 2018, the Ecumenical Institute for Labor Education and Research (EILER), together with its partner unions and federations, and with support from Quezon City Public School Teachers Association, Inc. successfully held the 6th Felixberto Olalia, Sr. Education Festival focusing on courses related to wages, history and neoliberal globalization. The Education Festival aims to contribute in strengthening the campaign for a national minimum wage in the Philippines.
EILER has been educating workers on the basic principles of genuine trade unionism for more than three decades. Since the 1980s, the institution led in mass education and course development with its banner course, Genuine Trade Unionism (GTU). Moreover, it continues to empower workers through various events that popularize labor education and highlight labor-related issues and concerns. The theme for this year's Education Festival is "Mag-aral, magsikhay, manindigan! Nakabubuhay na sahod ating ipaglaban!" The Education Festival was named after one of the greatest labor leaders of the country, Felixberto "Ka Bert" Olalia, Sr.
Previous Felixberto Olalia, Sr. Education Festivals gathered hundreds of workers from various unions, labor federations, urban poor communities and other workers' organizations, along with their families, to participate in seminars and trainings on various topics including labor rights, paralegal training, Health and Safety orientation, women's orientation and other workers' issues.
Born to a poor family, Ka Bert started working in a shoe factory by 17 and later joined the union in the shop where he worked. He soon became a staunch labor rights activist who led various campaigns for the advancement of the welfare of the Filipino workers. Considered the "Grand Old Man of the Philippine Labor," Ka Bert was an influential leader of the labor movement during the dark days of Martial Law. He eventually became the first chairperson of the Kilusang Mayo Uno. Ka Bert also helped established the Center for Trade Union and Human Rights, Katipunan ng Anakpawis sa Pilipinas, and the National Coalition for the Protection of Workers' Rights.
In remembrance of Ka Bert's remarkable contribution to the Philippine Labor Movement, EILER conducts the Felixberto Olalia, Sr. Education Festival to provide Filipino workers and unionists the necessary theoretical foundations in pursuing labor education in relation to social realities. Through critical educational discussions and workshops, the Festival ultimately hopes to motivate the participants to take action in the promotion of workers' rights and taking part in the struggle for genuine social change.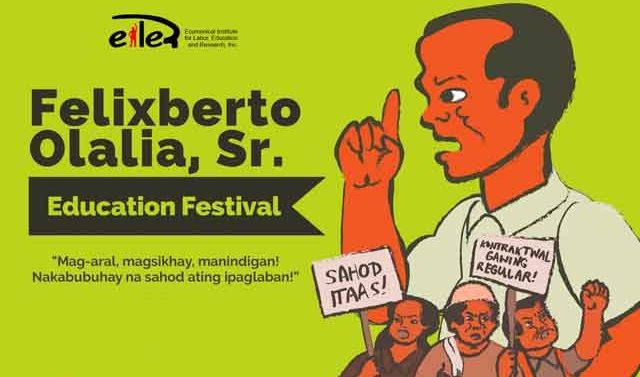 For inquiries, send name/s, mobile number, organization, your questions and/or the course you are interested to take to kabertedfest@eiler.ph or kabertedfest@gmail.com (email). Follow Ka Bert ED Fest on Twitter for news and updates.